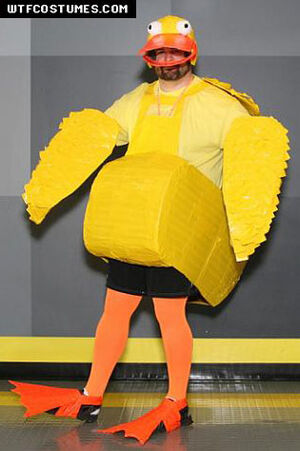 Alcunha
Duckman
Nome
Robert Duck
Idade
38
Local de nascimento
Crystalia
Equipe atual
--
Status
Vivo
Poderes

Vitalidade Ultimate

Teletransporte
Conceito geral
Edit
Duckman é um herói (assim ele pensa) que surge em momentos propícios para combater o crime e a vilania!

Edit
Conhecido por ser um saco de pancadas onde vai pelo menos consegue sobreviver e tirar a atenção dos oponentes caso esses não o simplismente ignorem. Sua ficha policial é grande, começando com perturbação da ordem e indo até atentado ao pudor.
Na primeira invasão a Neo-Earth, Duckman veio a falecer ao ser pisoteado por um robô alienígena gigante... Pela primeira vez Duckman não aguentara a dor...
Para depois ressurgir em Nightmare City e lutar na "1° Crise". Ninguém sabe como ele voltou a vida, nem mesmo ele que apenas diz que a Galáxia tem um plano maior para ele.
Relacionamentos:
Daniel Duck (Duck Kid) - Filho
Jann Margaret - Ex-esposa
Vitalidade Ultimate - Duckman tem a capacidade de aguentar golpes de imensa força e sobreviver sem quebrar nada ou se ferir. Essa habilidade faz com que ele possa sobreviver a quase tudo contanto que os danos não sejam seguidos. Sua regenração é enorme, não tendo cicatrizes e se caso perder algum membro, esse volta a crescer ou cresce um novo.
Teletransporte - Duckman pode se teleportar para as imediações de pessoas que gosta.
Ad blocker interference detected!
Wikia is a free-to-use site that makes money from advertising. We have a modified experience for viewers using ad blockers

Wikia is not accessible if you've made further modifications. Remove the custom ad blocker rule(s) and the page will load as expected.